Tears of Sakura / Sakura no Namida
Elegy to Japan in memoriam March 11th
for solo violin and orchestra

to Simon Bernardini
Premiere in Osaka, November 28th 2011
Simon Bernardini, violin
Osaka Kyoiku University Orchestra
Yannick Paget
Charity.
All the royalties (performance and broadcast) of Tears of Sakura will be donate to
Momo-Kaki Orphans Fund
, an orphan's fund for children who lost their parents in the Great East Japan Earthquake, established by renown artists such as architect Tadao Ando and conductor Seiji Ozawa.
Score and parts are freely at disposal on request.

Contact
チャリティー
桜の涙の印税(演奏と放送)は桃・柿育英会に寄付されます。桃・柿育英会とは、東日本大震災で両親を失った子供たちのための組織で、建築家の安藤忠雄氏、指揮者の小澤征爾氏といった有名な芸術家たちによって設立されました。
楽譜は、必要に応じて自由にお使いください。
Contact

Original version:
2.2.2.2-4.2.0.0-Tmp+1-Hp-solo Vn-str -7mn-


Arrangements:

-for orchestra only:
2.2.2.2-4.2.0.0-Tmp+1-Hp-str

-for solo violin, orchestra and choir:
2.2.2.2-4.2.0.0-Tmp+1-Hp-solo von-SATB-str

-for solo violin and smaller orchestra
2.2.2.2-2.2.0.0-Tmp-solo von-str

-for string quartet

-for violin and piano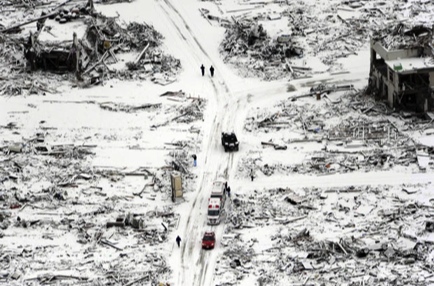 Broadcasted in France
on France Musique
by Anne-Charlotte Rémond
Le concert de l'après-midi
March 11th 2013

When I started to compose this piece after the hearthquake and the tsunami, my head was filled of pictures from the disaster : field of ruins and desolation. It was supposed to be the beginning of the spring when sakuras are so beautiful in Japan, but, winter was still going on. Instead of the white rain of petal of Sakura, it started to snow ; the trees seemed to be crying.
Yannick Paget